BATMOBILE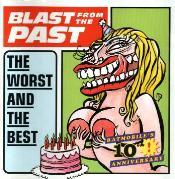 "Blast From The Past"
Count Orlock Rcds | 23 titres | 1993 | Psychobilly
Critique : Cet album est sous-titré "THE WORST AND THE BEST - BATMOBILE'S 10th ANNIVERSARY". Les BATMOBILE se sont amusé à reprendre certains de leurs anciens titres (plus une instrumentale et une reprise de "RUNAWAY", malheureusement moins bonne que celle des SCUM RATS ou que celle de DAVE). Cela donne donc en fin de compte un album très homogène, qui permet d'embrasser d'un seul coup d'oreille ces 10 ans de Psycho/Rockab, très agréable voir même indispensable si vous ne possédez pas les autres albums. Un petit reproche au niveau de la contrebasse moins présente que sur les premiers albums.
Liste des titres: 1. The Night the Hammer Came Alive 2. Bat Attack 3. Bat Dream 4. Scum of the Neighbourhood 5. Transsylvanian Express 6. Killers Crew 7. Bring All My Love 8. Night Without Sleep 9. Bambooland 10. Ballroom Blitz 11. Cold Sweat 12. Kiss Me Now 13. Can't Find My Way Back Home 14. Tragic Word Called Love 15. He's Gotta Go 16. Shoot, Shoot 17. Gates of Heaven 18. Runaway 19. Hard-On Rock 20. Sinners Rock 21. The Hammer Killing 22. Rock This Planet 23. Ravin' Women
&nbsp [0 critique]