SURESHOTS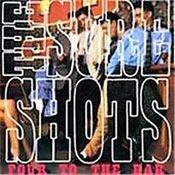 "Four To The Bar"
ID Rcds | 11 titres | 1987 | Neo-Rockabilly
Critique : Excellents musiciens, the SURESHOTS jouent avec un très bon son, très clean limite Jazzy/Swing par moment, et restent à ce jour l'une des références dans le style, et bien que cet album comporte une majorité de reprises, il demeure un classique du Neo-Rockabilly britannique du milieu des 80's!
Liste des titres: 1. Four To The Bar 2. I'm On Fire 3. Right Behind You Baby 4. Am I Blue 5. I'm Uneasy 6. What I Got For You 7. Chinatown 8. Little Pig 9. Broken Heart 10. Wanna Know 11. True Love
[Lire ou Ajouter un commentaire]
COMPILATIONS : 1 compilation(s) avec SURESHOTS.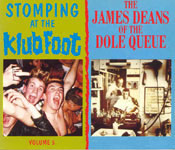 STOMPIN' AT THE KLUB FOOT - vol.5 / THE JAMES DEAN OF THE DOLE QUEUE