SPOOK and the GHOULS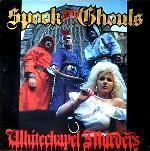 "Whitechapel Mureders"
Nervous Rcds | 14 titres | 0 | Psychobilly
Critique : Ceci est un album plutôt original puisqu'il mélange le Psycho, et le Gothique (témoin, cette reprise de "BELA LUGOSI'S DEAD"), toutefois, cela semble manquer de conviction (et encore plus lorsqu'ils jouent du psycho plus classique, comme sur le titre "ROCKER"), et leur maquillage façon KISS (qu'ils abordent non seulement sur la pochette, mais également sur scène - si, si, je vous assure !) les rendent peu crédibles. Toutefois, le non-conformisme de cet album mérite qu'on y pose une oreille.
Liste des titres: 1. Reaper Grim 2. Demon Barber Of Fleet Street 3. Vampira 4. Nightmares From Beyond 5. Love Me So 6. Let'Em Swing/Twisted Kind 7. Gallows Are Awaiting 8. Werewolf In Our Town 9. Dead Flesh Creeping 10. Bela Lugosi's Dead 11. Live And Raw 12. Death Ride 13. Rocker
[Lire ou Ajouter un commentaire]
COMPILATIONS : 4 compilation(s) avec SPOOK and the GHOULS.