RIVERSIDE TRIO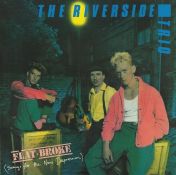 "Flat Broke (Songs For The New Depression)"
Northwood Rcds | 15 titres | 1985 | Rockabilly
Critique : 1er album pour ce trio britannique (guitare/chant, guitare, contrebasse) qui joue une excellente musique, mélange entre Rockabilly authentique, Hillbilly, Swing et Rockin' Blues. Pas de batterie (ou très peu), mais des percussions washboard, etc, qui renforcent le côté musiciens de rue. C'est là que le groupe a débuté.
Liste des titres: 1. Tonight, With Me, Honey Baby 2. Dopey Frutti 3. Showpiece 4. A Little Bit Late For Loving 5. My Girl 6. Flat Broke 7. Tell Me Goodbye 8. Dirty Cell Block No.9 9. I've Only Just Turned 21 10. Find Another Baby 11. Tell Me Little Darling 12. Who's That Knocking 13. Can't Be Satisfied 14. Feel So Blue 15. World War III
[Lire ou Ajouter un commentaire]
COMPILATIONS : 4 compilation(s)* avec RIVERSIDE TRIO.
*: Possibilité d'erreurs dues aux homonymes.