PHOTON TORPEDOES
[USA]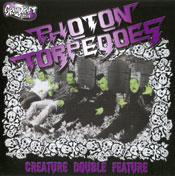 "Creature Double Feature"
Spindrift Rcds | 13 titres | 2002 | Psychobilly
Critique : Les PHOTON TORPEDOES ont l'air bien allumé ! Bien que ce ne soit pas leur premier, cet album n'est pas très soigné (le même son de guitare du début à la fin, grosse voix erraillée braillarde, rythmes primaires, bonne slep, tout de même). Mais le groupe semble ne pas se prendre au sérieux (voir "CHILDREN SHOULDN'T PLAY WITH DEAD THINGS" ou "FUCK ON THE FIRST DATE"), ça donne un esprit très Punk-Bière-et-Délirs à l'album.
... un peu comme les KLINGONZ, mais sans le côté Star Trek.
Liste des titres: 1. Photon Stomp 2. Creature Double Feature 3. Caught With the Meat in Your Mouth 4. Children Shouldn't Play with Dead Things 5. CHUD 6. He's Doin' It 7. Tough Fuckin' Shit 8. Vampire Bitches 9. Midget Porn Boogie 10. Alien Vagina 11. Flesh eating Bacteria 12. I Fuck in the 1st Date 13. Get in the Bag, You Fucker
[Lire ou Ajouter un commentaire]
COMPILATIONS : 5 compilation(s) avec PHOTON TORPEDOES.