MUMMIES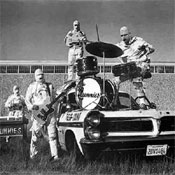 "Never Been Caught"
Telsar Rcds | 17 titres | 1992 | Garage
Critique : Un des groupes iconiques de la scène américaine des années 90, the MUMMIES se situent à  mi-chemin entre les SONICS et les MILKSHAKES, avec un côté Punk sale un peu plus renforcé sur certains titres.
À noter: "Planet Of The Apes", un titre des MUMMIES a été repris par the MAGNETIX (en live) et par GODDAMN GALLOWS sur leur 2nd album.
Liste des titres: 1. Your Ass (Is Next In Line) 2. Stronger Than Dirt 3. Little Miss Tee-N-T 4. Come On Up 5. Sooprize Package For Mr. Mineo 6. Rosie 7. Shot Down 8. The Ballad Of Iron Eyes Cody 9. Skinny Minnie 10. She Lied 11. Red Cobra #9 12. The Frisko Freeze 13. Justine 14. Mariconda's A Friend Of Mine 15. The Thing From Venus 16. Shut Yer Mouth 17. Jezabel
[Lire ou Ajouter un commentaire]
COMPILATIONS : 0 compilation(s)* avec MUMMIES.