MIKE BONANZA and the TRAILER PARK COWBOYS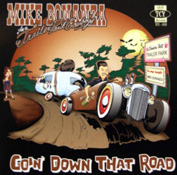 "Going Down That Road"
TCY-Records | 14 titres | 2011 | Neo-Rockabilly
Critique : Damned! Encore un excellent band en provenance de Suède! L'album s'ouvre sur une Rock'n'rollesque "OPEN U", mais par la suite, on plonge rapidement dans un Neo-Rockabilly vif et très bien exécuté. Malgré les influences Western (comme pour la très bonne "GUNFIGHTER"), et de forts relents white trash ("BURY ME IN MY TRAILER"), pas besoin d'être fan de Country pour apprécier ces Cow-Boys là!
MIKE BONANZA an' the TRAILER PARK COWBOYS est un groupe avec une forte personnalité, des compositions originales, et qui maîtrise parfaitement ses instruments. Le chanteur a une bonne énergie et il semble avoir pas mal de charisme, suffisamment en tout cas pour qu'on espère pouvoir croiser leur route.
Liste des titres: 1. Open u 2. We're the Trailer Park Cowboys 3. The gunfighter 4. Crazy hair 5. The wrong man at the wrong place on the wrong day 6. Hot roddin' (the Woodthorpe Groove) 7. Say Mama 8. Bury me in my trailer 9. Dancin' on the edge of the knife 10. Red river 11. Walk right up 12. You gotta go 13. It ain't what you do 14. Goin' down that road
[Lire ou Ajouter un commentaire]
COMPILATIONS : 0 compilation(s)* avec MIKE BONANZA and the TRAILER PARK COWBOYS.