MICKEY CLASSIC And His LONESOME SPUR
Voir également The GODDAMN GALLOWS.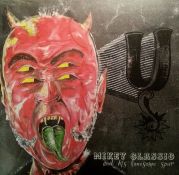 "st"
Brocken Neck Rcds | 12 titres | 2016 | Country - CowPunk
Critique : MIKEY CLASSIC, c'est le chanteur-guitariste des GODDAMN GALLOWS, et j'avoue qu'au départ, je n'étais pas certain de savoir si cet album n'allait pas s'avérer superflu. Finalement non: l'album tourne en boucle depuis 2 jours! On retrouve donc le chanteur en version one-man band, seul avec son banjo et des percussions minimums, ou bien avec une guitare bluesy, sa voix cassée et ses yoddles typiques, de superbes mélodies prenantes, le tout avec un côté intimiste et envoutant.
Plusieurs titres figurent également sur les disques des GODDAMN GALLOWS, mais ces nouvelles versions sont vraiment différentes, telles la démoniaque "Heaven" ou encore "Pass Me The Bottle". L'album se finit par un titre plus Garage, "The End Of My Rope"" que n'aurait pas renié BILLY CHILDISH.
Sorti en CD aux États-Unis sur Farmageddon Records en 2014, et réédité 2 ans plus tard en vinyle par Brocken Neck Records, un sous-label de Crazy Love Records spécialisé dans le Hellbilly et la Country-Outlaw.
Liste des titres: 1. Feed The Fire 2. Climbing Up The Walls 3. Bow Down To No Man 4. Shameshameshame 5. Wicked Day 6. No More Games 7. Sun & Moon 8. The Oil Field's Burning 9. Heaven 10. Pass Me The Bottle 11. Ya'll Motherfuckers Need Jesus 12. The End Of My Rope
[Lire ou Ajouter un commentaire]
COMPILATIONS : 0 compilation(s)* avec MICKEY CLASSIC And His LONESOME SPUR.