LIGHTNING BEAT-MAN and his N0 TALENT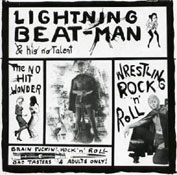 "Wrestling Rock n Roll"
Voodoo Rhythm Rcds | 18 titres | 2008 | Garage
Critique : Des titres enregistrés entre 1985 et 1994 par le King du Trash lui-même. Du RnR sans paillettes, ni fioritures (ni accordeur, d'ailleurs). Ça beau venir de Suisse, c'est sale, cochon, pervers, et on aime ça! ... Ou pas. Disons que ceux qui ne le connaissent pas devraient commencer par un album des MONSTERS ou par un des 2 volumes de "Surreal Folk Blues Gospel Trash" du Reverend BEAT-MAN, avant de descendre dans les bas fonds de ce "Wrestling Rock'n'Roll".
Avec ces enregistrements, BEAT-MAN ferait presque passer HASIL ADKINS pour un simple chanteur Yé-Yé.
Liste des titres: 1. Wrestling Rock'n'Roll 2. Take It Off 3. Shake It Baby 4. Yeah Pretty Baby Yeah 5. Baby Whats's Going On 6 Hey Gal! 7. Wild Baby Wow 8. I Wanna Be Your Pussycat 9. Hurt Me 10 Honey Baby Blues 11. Baby Fuck Off 12. It's Never To Late 13. Hi Ho Baby 14. Mindfuckingbitchass 15. Hell Yeah! 15. Wrestling Rock'n'Roll Girl Bonus Tracks: 16. I'm Gonna Kill You Tonight 17. Wrestling With Satan 18. I Love You
[Lire ou Ajouter un commentaire]
COMPILATIONS : 0 compilation(s)* avec LIGHTNING BEAT-MAN and his N0 TALENT.