HYPERJAX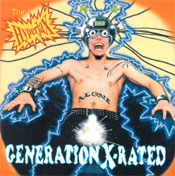 "Generation X-rated"
Raucous Rcds | 10 titres | 2002 | Neo-Rockabilly
Critique : The HYPERJAX fait partie de ces groupes qui jouent une espèce de modern-Rockabilly plutôt énergique et très bien fait. Ils devraient donc plaire à un public assez large (Psy, Rockab, ...). C'est propre, les compositions sont excellentes (voir "TRIANGULAR KIND OF LOVE", ou "HAPPY PILLZ"), pas toujours très rapides (pourtant le batteur s'appelle Parkinson), mais assez efficace. Un peu dans la lignée de "WALK THE LINE" des MIDNITERS.
L'album est produit par Alan Wilson (des SHARKS) et ne comporte aucune reprise.
Liste des titres: 1. Panic Button 2. Lost In The Spell Of Love 3. Where Egos Dare 4. A Triangular Kind Of Love 5. Spider On The Wall 6. What Did I Do Wrong 7. Happy Pillz 8. The Skys The Limit 9. She's A Siren 10. Wired To Saturn
[Lire ou Ajouter un commentaire]
COMPILATIONS : 6 compilation(s) avec HYPERJAX.