GRIT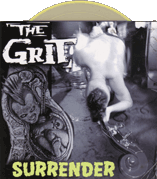 "Surrender"
I Used To Fuck People Like You In Prison Rcds | 3 titres | 2007 | Divers
Critique : The GRIT est un quatuor anglais (guitare-chant / guitare / contrebasse / batterie) qui joue un Punk-Rock avec une forte influence Joe Strummer/Mick Ness pour les vocaux. Une petite touche de Ska sur "SURRENDER" et une touche de Folk-Punk sur "A GEORDIE'S SONG", pour un EP bien balancé, calibré pour un public large.
EP coloré limité à 500 copies.
Liste des titres: 1. Surrender (radio edit) 2. Accosted 3. A Geordies Song (live)
[Lire ou Ajouter un commentaire]
COMPILATIONS : 4 compilation(s)* avec GRIT.
*: Possibilité d'erreurs dues aux homonymes.