FRACTURED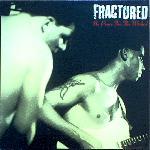 "No Peace For The Wicked"
ID Rcds | 8 titres | 1987 | Neo-Rockabilly
Critique : Ce court album de 8 titres nous permet de découvrir un groupe de Néo-Rockabilly vif et très efficace qui rappelle les meilleurs moments de RESTLESS ou les CARAVANS en plus speed. 8 titres, c'est peu car le groupe est d'excellente qualité.

A noter qu'ils apparaissent également sur la compil Live "STOMPIN' AT THE KLUB FOOT".
Liste des titres: 1. Honest Lovin' 2. Chauffeur Driven Limousine 3. Dark Blue Sea 4. Kisses Seeter Than Wine 5. Girl On The Corner 6. Gamblin' Man 7. Sold My Secret 8. Bog John (live)
[Lire ou Ajouter un commentaire]
COMPILATIONS : 6 compilation(s)* avec FRACTURED.
*: Possibilité d'erreurs dues aux homonymes.