ELLIOTT CARSON and the PREACHER MAN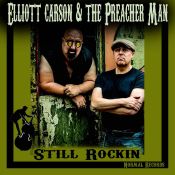 "Still Rockin"
Normal Rcds | 12 titres | 2021 | Rockabilly
Critique : Elliot Carson est également le guitariste-chanteur de NORM and the NIGHTMAREZ. Il est d'ailleurs ici accompagné de son contrebassiste habituel et a décidé de sortir sous le nom d'ELLIOT CARSON and the PREACHER MAN un album beaucoup plus roots à la croisée d'un Rockabilly low-tempo et du Country. Quelques titres portent encore la marquent des NIGHTMAREZ comme "Prison Cell Blues" ou "Boy From Tupello", d'autres sonnent beaucoup plus pépère, comme la chanson titre, le tout avec une excellente production faite maison.
JOHNNY CASH rencontre the NIGHTMAREZ!
Liste des titres: 1. I Told Her Not To Do It 2. Prison Cell Blues 3. Samson & Delilah 4. Boy From Tupelo 5. I'm Still Rockin' 6. Pinup Girl 7. Rockin' In The Corner 8. Happy Like A Peach In A Tree 9. Heartbreaking 10. Doin' The Rock 'n' Roll 11. Grizzly Bear 12. Pain In My Heart
[Lire ou Ajouter un commentaire]
COMPILATIONS : 0 compilation(s)* avec ELLIOTT CARSON and the PREACHER MAN.