COCKROACHES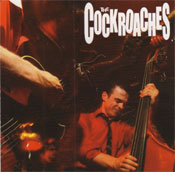 "st"
Real Big North Rcds | 15 titres | 2007 | Neo-Rockabilly
Critique : Mené par un contrebassiste-chanteur qui n'est pas sans rappeler un certain DAVE PHILIPS, ce trio Neo-Rockab a un son très spontané -avec une petite production-, et rappelle certains groupes britaniques de la 1ère moitié des 80's. La batterie sonne BLUE CAPS, la guitare est impeccable et les compos sont généralement simples et entraînantes, comme la très bonne "WALK MY WALK".
A noter: la surprenante "IT WENT TO MY HEAD" qui sonne beaucoup plus 60's que le reste de l'album et qui semble sortie tout droit d'un vieux "PEEBLES".
Liste des titres: 1. Walk my Walk 2. The Cats Ass 3. Holly 4. I'm Gonna Bop 'til I sleep in my Grave 5. Honky Tonk Mind 6. Cruel Hearted Dame 7. Long Blond Hair 8. I'm Ready 9. Shoobydoowa 10. Suger Sweet 11. Easy Tiger 12. Crazy Arms 13. Lucy Loo 14. It Went to my Head (mods vs rockers) 15. Move it Over
[Lire ou Ajouter un commentaire]
COMPILATIONS : 5 compilation(s)* avec COCKROACHES.
*: Possibilité d'erreurs dues aux homonymes.