CASKETTERS
[USA]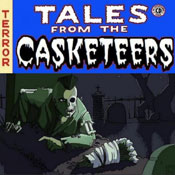 "Tales From The Casketeers"
Psycho-A-Go-Go Rcds | 13 titres | 2011 | HorrorPunk
Critique : Trio américain dont on pourrait situer la musique entre le Psychobilly New-School américain (à la TIGER ARMY et consorts) et l'Horror-Punk à la MISFITS. Mais malgré quelques bons titres comme "AMONG THE LIVING" ou encore "FROM FLESH TO BONE" (qui rappelle les vieux titres des KOFFIN KATS), le groupe manque parfois d'énergie et de spontanéité et les lignes de contrebasse sont un peu simplistes.
Liste des titres: 1. Carnival Of Souls 2. Psycho A Go Go 3. Wreck N Roll 4. Haunted Forever 5. Killing Me Killing You 6. From Flesh To Bone 7. Go Cadaver Go 8. King Of Zombies 9. Back From The Grave 10. Among The Living 11. My Revenge 12. No Remorse 13. Sore Loser
[Lire ou Ajouter un commentaire]
COMPILATIONS : 0 compilation(s) avec CASKETTERS.