AL and the BLACK CATS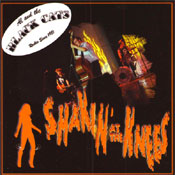 "Shakin' At The Knees"
Rooby Rcds | 14 titres | 2007 | Neo-Rockabilly
Critique : 2e album pour ce combo Neo-Rockabilly américain, toujours impeccable et survitaminé. Le groupe a des compositions généralement classiques, mais elles sont jouées avec beaucoup de fougue, une contrebasse très en avant et une voix hargneuse entre Brian SETZER ("I'LL BE DAMNED") et the KINGS OF NUTHIN ("CATMAN STOMP").
Parmi les reprises, à noter un titre des MISFITS, et surtout une très bonne version de "WILD ONE" de BANG BANG BAZOOKA.
Liste des titres: 1. Shakin' at the Knees 2. Catman Stomp 3. I'll be Damned 4. Mama said too Fast 5. Wild One 6. Me and Lucy 7. Set Me Free 8. Don't say No 9. Grandad Song 10. Thunder and Lighting 11. Rock'in Around 12. This Old Boy 13. Go Go Go 14. Astro Zombies
[Lire ou Ajouter un commentaire]
COMPILATIONS : 0 compilation(s)* avec AL and the BLACK CATS.