Interview: Zombie Ghost Train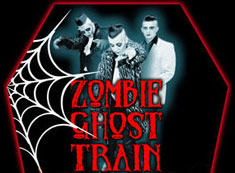 February 2005

One of the 2004's revelation. Twangy Psychobilly, dark 'n' insane Rockabilly. This Australian trio's got a really good 7-tracks CD out on Crazy Love Rcds. Watch out! You shouldn't miss this train: ZOMBIE GHOST TRAIN.
1/ First of all, where does the name "ZOMBIE GHOST TRAIN" come from?
There's a 1991 Finish Film by Mika Kaurismaki called "Zombie & the Ghost Train", about a bass player wanting to join this mysterious punk rock band called ghost train. Our name was kinda a homage to that and just to b-grade horror culture in general.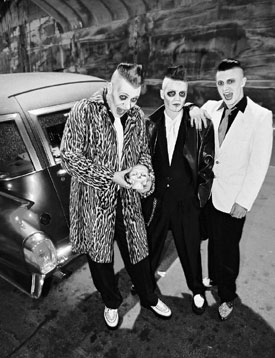 2/ How long have you been rockin' together? Could you tell us a short history of the band?
Capt. Reckless and AzzA-T were playing in a rockabilly band and one night the regular guitarist was sick, so the Capt. called Stu to fill- in. That was the first time we all played together, a few months after that we had a rehearsal and played early Batmobile, and misfits tunes.
We've been playing together for almost three years now.
3/ Could you present the members of ZOMBIE GHOST TRAIN? Who plays what? Where do you come from? Do you work, outside of the band?
Stu Arkoff (Vox/Guitar/Theremin)
Capt. Reckless (Slap Bass/Backing Vox)
AzzA-T (Drums/Percussion)
Outside the band we focus on staying awake. We find if we seldom sleep it maintains our pale white complexion and black-rimmed eyes.
4/ What are your main musical influences?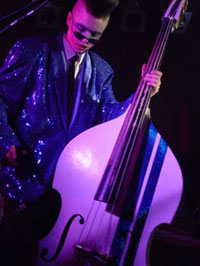 We listen to lots of styles, but musical influences for this band are;
Garage Punk / Egyptian folk / Rockabilly / Psychobilly / Surf.
5/ How could you describe your music?
Eddie Cochran meets The Misfits.
6/ Your Album will be out in a few months. What could you tell us about it?
It's coming out in April and will be called "Glad Rags and Body Bags". It was produced by Mickey Mutant who's worked with Demented Are Go / Nekromantix / Meteors to name a few.
7/ What do you think of the current sychobilly/neo-rockabilly scene, here in Australia?
It's hard for any scene to come out of the underground here. The amount of people and lack of media coverage means that it's hard for any sub- culture to get noticed by the mainstream punters. Luckily though many sub-cultures support each other and put on shows with a mixture of styles: Goth / Metal / Punk / Psychobilly / Rockabilly / Surf / Swing etc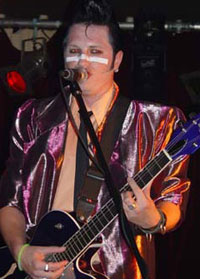 8/ Do you have any contact with bands from other continents (Europe, America, ...)
Late in 2004 Stu went to the States on a solo tour of mass seduction and saw heaps of great psycho bands that hopefully we will be doing some shows with this year.
9/ What are the last 5 albums you bought?
Lately we've been listening to: Lotsa black R'n'B, Gorilla, Batmobile, Tom Waits, The Matadors and Frenzy.
10/ You seem to be influenced by horror movies. What is the best horror movie, according to you?
AzzA-T: I really like Carpenters' Halloween and Kubricks' The Shining, and Ed Wood stuff is great too.
11/ What are your lyrics about?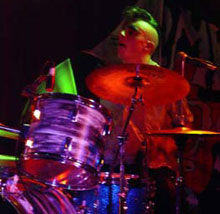 Our lyrics are a mixture of personal emotional stuff (addiction, loss, hate, disappointment, loneliness, the darker side of life) mixed with horror imagery.
12/ What are Zombie Ghost Train's plans for the future?
We hope to release our album and a couple of singles and tour Australia and overseas later in the year.
13/ Last Words?
We appreciate all your support, thx to our overseas fans for buying our wreckchords, the new album should knock ya socks off!!