Interview: the VOODOO STOMPERS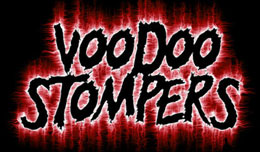 Janv. 2007
What's better than a young promissin' band for beginning this new year?
The VOODOO STOMPERS come from Brazil and and play a very well done 'Old-School' Psychobilly.
Discover them with this interview then run on their MyPage space to hear their sounds: www.myspace.com/voodoostompers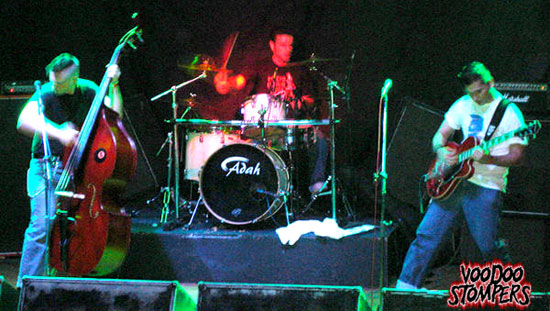 1/ Who plays what? Could you describe yourselves in a few words...
Léo

- Guitar / Vocals
I'm 22 years old, I play guitar about 7 years, and my principally influences are Elvis Presley, Eddie Cochran and Johnny Burnette.



Adriano

- Drums
I'm 21 years old, I play drums about 6 years. My influences are principally Stray Cats, Batmobile, Igor Cavalera (Sepultura) and Garotos Podres (first music that I learned to play).



Biffs

- Slap bass
Well, I'm 20 years old, I play slap bass about 4 years. My influences are principally Godless Wicked Creeps and Nekromantix.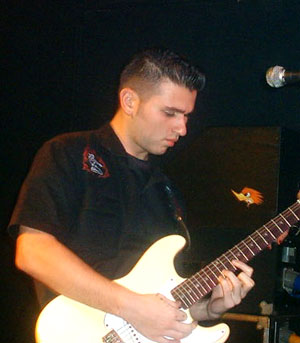 2/ What are your occupations outside the VOODOO STOMPERS?
Léo - I study in College of "Information Systems", working with Systems Analyst Trainee. My hobbies are: Skateboarding, playing the guitar and staying with my babe.
Adriano - Currently, I study "Graphical Arts", working in a Graphic Industry, my hobbies are: playing the drums, my girlfriend, playing billiard, drawing, and collecting things.
Biffs - I work as diagrammer in a comics publishing company and my hobbies are listening to the music and sleeping.
3/ Where do you come from?
We are from São Paulo - SP (Brazil), but the city is divided in Zones (very big city), so Léo and Adriano are neighboring and living in East Zone and Biffs came from West Zone. Here in São Paulo, the different zones are far from each other.
4/ Let's talk about the Brazilian Psychobilly scene. What are the current bands you like?
Here in Brazil the Psychobilly scene have basically two types of public: Those who really like the music and the style, and those who like the visual and just want to appear. There's a difficulty to divulge the psychobilly by here, there arn't so many places that open their doors to this work. In the underground the style that have more space is the Hardcore. Although these conditions, many new bands appeared in Brazil, some of them are finished, like our friends of "Haunted boys", "Space Bloody" among others. Currently the bands that we like the most are "Big Nitrons Band" (ex-guitar and ex-Drummer from Haunted Boys), and "Sick Sick Sinners" (ex-guitar and ex-Drummer from Catalépticos).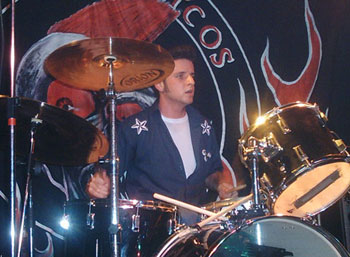 Where does the name of the band come from?
The name of the band comes from a friend. When he had a Meteors cd in hands, and said to Biffs the name of the two first songs of the cd Track List, the cd was "Only The Meteors Are Pure Psychobilly", and our friend asked to Biffs why don't we join the name of this songs that are "Voodoo Rhythm" and "Graveyard Stomp", making "Voodoo Stomp" or "Voodoo Stompers", and Biffs said it to the rest of the band. By the way, Léo and Adriano didn't want this name, because the people would relate the name of the band with The Meteors (Band that we like so much, but our songs don't have much similarities). But then appeared the first show, and we didn't have a name, and the show organization put this name on the flyer, and since then we turned into the"Voodoo Stompers"
6/ What about a full-lenght release?
We intend to enter in studio to record at the beginning of the year.
We tried to record in the end of 2006, but we had some personnal and financial problems and it wasn't possible.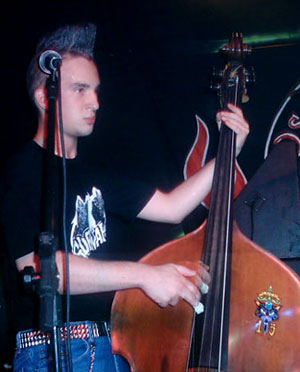 7/ How'd you describe your sound?
Each member of the band add his own influences in the music, since that doesn't loose the characteristic. We think that our sound is as Old School Psychobilly / Neo-Rockabilly, many bands in the 80s followed this style, and are the bands that we like the most, and this is how we want to sound.
8/ What are your main musical influences?
We like many different song styles, and all this songs contributed to our influences. We like Swing, Rockabilly, Punk Rock, Psychobilly, Horror Punk, Hardcore and Thrash Metal, among other styles like Jazz, Blues and Country.
9/ And other influences (movies, substances, people, .... well whatever you could imagine)?
Basically, we like to speak in the music about the movies we like (Terror, B-movies and scientific fiction) and about people, the song called "My pretty Girl" it made for Léo's Girlfriend, because she is a person who has always helped the band since the first show, but all the songs and lyrics are based on all of this and stories created by us.
10/ Psychobilly seems to have a long history in Brazil, since the beginnings of Kaes Vadius. Could you resume it?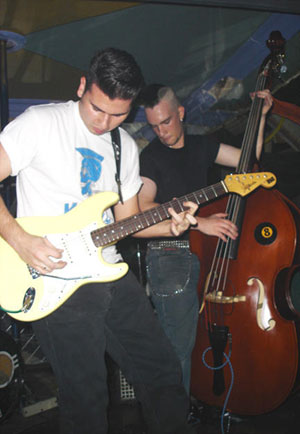 Well, we are quiet young to tell about Psychobilly in Brazil, it's a big responsibility. When the Kaes Vadius started in 1985, the oldest guy of the Voodoo Stompers (Léo), had 1 year of age. We have some materials of bands of the early scene in Brazil, and we can say that some bands like K-Billys (our principal influence in Brazil), Kryptonitas, Big trep, Os Cervejas, although it is difficult to find some material, are bands that we really like.
11/ Unfortunately, there are only a few Brazilian bands who managed to play outside their country. Do you plan to come & play in Europe or in north America?
Oh yes, we want so much to play in others Countries, principally in Europe that is the place where all began, and we are working anxiously for this, and waiting for an opportunity.
12/ The question (and its answer) you wish I had asked you...
Which are the future plans of the band?
We want so much to live of our music, but in Brazil it is not possible with the Psychobilly. Then we desire to keep on playing up to where it is possible, to record our disks and to travel in the world, if it's not possible, we'll keep on playing just for fun!
13/ Last Words...
We would like to be thankful to you Charly to open this space for us, and all the people that have helped us and if somebody wants to contact us, send an e-mail to voodoostompers@gmail.com or visit our myspace page www.myspace.com/voodoostompers
Thank You Very Much.