Interview: Up To Vegas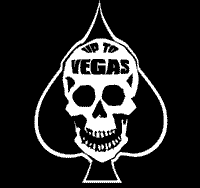 June 2003
UP TO VEGAS, last band from CRAZY LOVE label, play a wild 'n' violent punkabilly but very well orchestrated. Yes, they're far away from traditional Psycho ; yes, except for the slap bass, the "Billy" seems to have been forgotten. And Then ? When it's well done (and it IS well done), it's sometimes interesting to get out of the traditional roads.
Viva Las Vegas!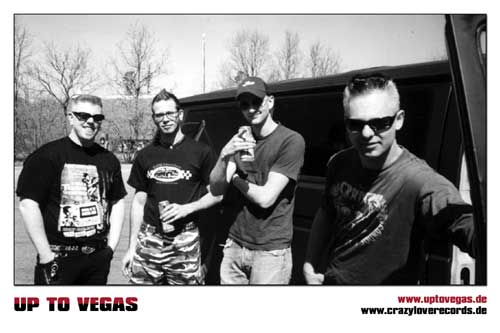 1/ Who are you?
Up To Vegas is:
Dr. F - Vocals
fav. bands: Dead Kennedys, Slayer, Agnostic Front, Tom Waits
fav. movie: Wild at Heart
Carlos - Bass
Hobbies: playin Bass, drinkin Whiskey, all kind of Porn movies
fav. Bands: Reverend Horton Heat, Peter Pan Speedrock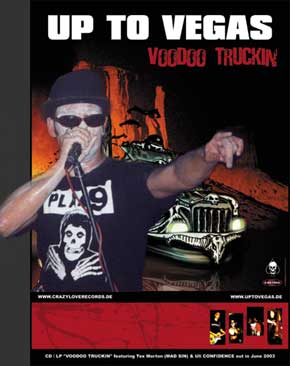 Ace - Drums
fav. Bands: Turbonegro, Metallica
Shaft - Guitar
fav. Bands: Kennedys, Misfits, Reagen Youth, Ramones, Peter Pan Speedrock, Thin Lizzy
Hobbies: Musik
fav. Movie: Meet the Feebles
2/ How long have you been playing for ? How many gigs?
Dr. F.: We all started making music in the late 80ties & early 90ties. With UP TO VEGAS we are now together for 2 years. Within that time we'd been playing constantly a 30-40 shows a year.
3/ Where are you from?
Carl: We are all from Karlsruhe, South Germany.
4/ UP TO VEGAS : where does the name come from?
Dr. F.: Well, when we first met for rehearseling we talked bout how to name us and finally we ended up in talking bout past times when we'd been to the US. Carl had been there living in San Diego, California, and myself, I was there for a job some years ago and at that time, when I visited Las Vegas, Motörhead had been playing that very night (!). For some reason it was all of a sudden obvious, that's what we wanna do!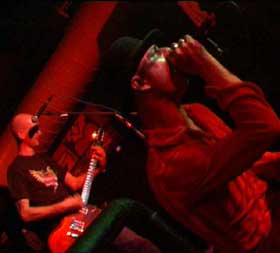 5/ What are your main musical influences?
Carl: Psychobilly, Rockabilly, Punkrock
Dr. F.: My main influences are within Hardcore and Metal, Punkrock and Psychobilly, but also other musical areas from electronic to mainstream.
6/ Other Influences?
Carl: Sometimes I listen to old Jazz Music because of the great Bass Players like Charles Mingus and Ron Carter.
7/ Can you describe your music?
Carl: We have all different musical influences like Psycho, Punkrock or Metal. I think Up To Vegas is a mixture of all of them. You can't say UTV is pure Psycho or pure Punk.
It is probably a hellish kind of new Rock n Roll !!!!!!!!!!!!!!!!!!!!
8/ Listening to your LP, one can fell DEMENTED ARE GO and MAD SIN inspirations.
What does UP TO VEGAS has more or different?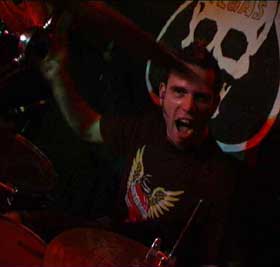 Dr. F.: I guess it's the new sound of combining more than one or two things which makes us special. Of course there are a lot of old-school Psychobilly influences, but even more, you hear a good bit other origins (e.g. Punkrock, HC, Metal'n'Roll) in it. Also, not like many other bands we're not trying to copy this or that, but rather want to create something new!

9/ Tell us a little more about your LP "Voodoo Truckin"...
Carl: Yes you are right – you can hear some Mad Sin or DAG inspirations on our new CD.
I mean I write our songs (just the music) and I grew up with these great 2 Bands that is probably the reason. But I think our music is more Punkrock and the "Billy" comes just from the Stand up Bass. It was a lot of work to produce this album in many ways.
Writing the songs, recording and mixing it at the Wild at Heart Studio in Berlin and creating the cover. But anyway we had a lot of fun during this time and we are proud of this shit.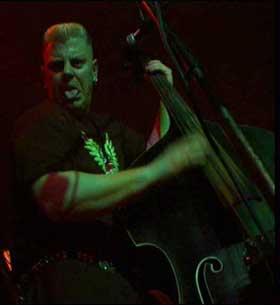 10/ How has you convinced Tex Morton (from MAD SIN) to play with you on some tracks?
Dr. F.: Tex is a good friend of mine, we spent some time together last year, when we'd been on the first West Coast Wreckers Ball in Los Angeles, Ca. We recently also played with the MAD SIN bunch and Tex offered us to come by to the studio in Berlin without hesitation. We had a good crack then, when we recorded the songs!
11/ How was the job with Crazy Love ? Are you satisfied to have been signed by one of the best psychobilly records label?
Dr. F.: We are very satisfied with Crazy Love Records. I mean, we already released our last MCD on CLR and the partnership with Guido is based on a very open and reliable relation. The new LP "Vooodoo Truckin" now will be again published by CLR and we are expecting a good success with it. The work Guido is doing is very professional, he's distributing worldwide, so it doesn't surprise that I got mail from all over the world.

12/ What are your lyrics about?
Dr. F.: The lyrics are of quite a different kind. Sometimes I write about some obscurities, doesn't matter if it's a strange monster story or just the madness of normal life, or yet out of the life of a Rock'n'Roll junkie! Also, every now and then you'll find some lyrics which are quite cynic and with a good load of black humor and critical at the same time!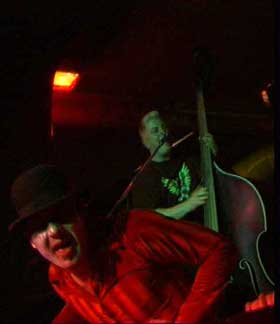 13/ A lot of things happen in Germany (festivals, new bands, ...). Do you think that today, being a band from Germany has helped you?
Carl: I don't know. All our success to this day was definitly hard work (booking, touring, playing, recording) But your are right today we have an Rock n Roll Hype specially in Germany.
yes, we enjoy it.
14/ What are the bands you are close to?
Carl: We were touring with a lot of bands, but the bands we are really like are Church of Confidence, Mad Sin and Peter Pan Speed Rock, great guys!
15/ What are the next projects of the band?
Carl: The show must go on. We'll start writing new songs, and we wanna go to the studio probably next January. We wanna release a picture disc with the songs from our first demo CD end of the year, I hope it comes true. But the main thing will be touring around all over Europe.
16/ Have you got something else to add?
Carl: Thank you for the interview, yes we stay wild…….
Dr. F.: Hope to see you out there, gotta VOODOO TRUCKIN baby!