Interview: the ASTRO-ZOMBIES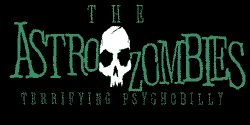 Dec. 2002
The ASTRO-ZOMBIES ... Their name sounds like an old 50's B-movie. But they are as actual as it can be : They're one of the most personnel band of nowadays, and certainely the best french psychobilly band. Their actuality is quit full: a third album in the starting blocs, a new website, some concerts, and -you know what?- an interview on GoPsycho! Wow!
Thanx a lot to Bob Zombie for answering and sending the pictures.
1/ How long do the AZ exist ? Short biography
First of all, thank you for this interview, and congratulations for the nice site you've made.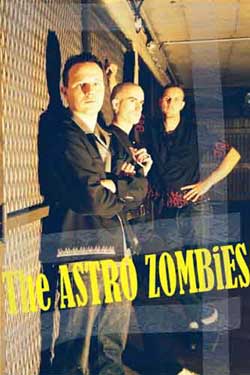 The Astro Zombies are about 5, 6 years old. Originally a Rockabilly combo called "Lone star trio", which had a 4 piece line-up anyway. Since then, the band has evolued into that genre that its evergrowing numbers of fans worship in full moon nights, and this since the early eighties and till the end of times : "Psychobilly never dies".
To this day, a third album has been recorded and is being released soon (feb 2003). An European tour will follow.
This new album is different from the first two and shows more maturity concerning sound and actual songwritting. Should become a classic.
2/ Band Members, who does what, hobbies, face films, etc. ...
At the moment, the band consists n myself, Bom : vocal + guitar, Gaybeul : drums and Vinz : bass. A trio that is the perfect number to play Rock'n'Roll.
As for our hobbies, hmm, beer, sex, huh, and, mm let me think ... No, no really, I think that's all.
Horror movies are of course really apreciated at home, but only if there's some beer to go with. A part from that, Porn movies.
Ideal evening : a mix of both, ten beers, a blow job and then off to bed.
3/ What Are You Listening To Nowadays ?
A bit of everything, there's good stuff to take in every style. Punk Rock a lot 'cause it's fashionable and the song don't last more than 1'30" and the lyrics are really stupid. I love it !
No, really : anything from Brian Setzer to the Off Springs through Reverend Horton Heat, sum41, Ray condo, turbo AC's, Big sandy, Foo fighters, Highnoon, Motorhead, the Ramones, Mclusky, the Distillers, etc... and the usual Psycho scene of course.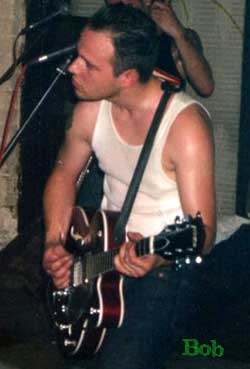 4/ What Bands On That Scene Do You Feel Close To?
I don't know ; musically, I don't think there are any. We have our own style, the ASTRO-ZOMBIES are the ASTRO-ZOMBIES and nothing else, with their originalities and (very few) flaws. A few bands play very well but don't really have a proper identity. Their records sounds like a compilation of the other psychobilly bands. The ASTRO-ZOMBIES play their style and that's all.
A part from that, we get along alright with everyone.
5/ Major Musical influences ?
Well, in the band I write the songs, music & lyrics. Then we all work it together. Go to question 3, then. As for the lyrics, it depends on my mood, things that pics me off or that I like, anything.
6/ Other Influences ?
What the fuck is your point mate ?! I'll never tell you we take dope !
7/ About Previous Releases, Tell Us About :
- the EP :
- LP "ASTRO-ZOMBIES" :
- LP "CONTROL YOUR MIND" :
The EP is really good, sound is crap but the energy of the first draught is there. A sound close to 80's bands I like that.
The first LP we recorded at Paul Fenech's, one week in Heaven, a dream. Good sound, energy is there, good for a first one.
The second one « Control your mind » is more melodic, better played, better produced. Start of our "maturity".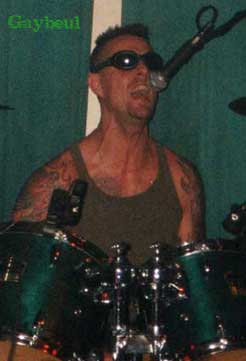 The next one will be completing the first two, revealling the band to a brand new day. Powerfull sound, well-produced tunes. I think it's gonnz be the best one... waiting to the next one.
8/ Any Changes In The Line Up Since The First EP ?
Only the bassist, Vinz has been in the band for 2 years and is not on any previous records. The first experience at that level. He can not scratch his ears nor wearing his cowboy boots anymore (laughter)
A part from that, the hardcore is steady and will not move. «What doesn't kill us makes us stronger» (Nietzsche)
9/ You're About To Release Your Third Album. Who Published It ? Titles & All ?
Our 3rd album will content 13 titles, exclusively for you ( ! ) :
Fort chabrol (Jacques Dutronc cover)
Enemies' eyes
Plastic passion ( the Cure)
666 racing (Motorhead influenced)
Terrifying Astro Zombies (inspired by my mate Ted V Mickels's movie)
The story of Bonnie and Clyde (written by Bonnie Parker herself !)
The screamers (reference to the 10th key screamers in which Gaybeul and I played)
You are shit (no comment)
Psychos on the road (serial killer ballad)
Social life (shity life!)
Devil duckie (something happened in my bath)
Bertha lou (famous cover with the unequaled bontempi player Lucas Trouble)
The lute number (instrumental)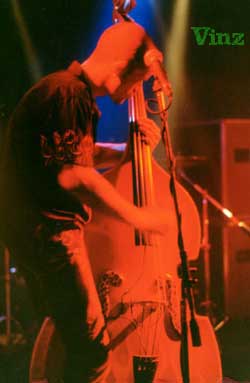 That's all for the songs, and we don't know yet who's gonna publish it. It was recorded at Kaiser studio. We're proud having had the old Kaiser's experience working for us and honored having him contributing to a few songs.
10/ How Is It Musicaly ?
The best of the ASTRO-ZOMBIES will be there. Son, my friend, some piece of advice. As soon as it's realeased : go and buy it.
Less melodic than the second with a big fet sound and windblowing tunes. All I can say, then, you'll have a good review on it, for sure.
11/ Will There Be A Tour Following The New Release ?
We're planing it for late march, but it's already late for this winter. Anyway there will be a tour for sure, but we don't know exactely when.
We would like to play more in our own country but it's not easy, the Rock'n'Roll scene is too underground, you can't get people motivated enough to get involved.
12/ Ladt Words ...
Soon a new website for the ASTRO-ZOMBIES :
http://membres.lycos.fr/astrozombies
Any informations at : Lorenzo Di Mac Kenzie
Live fast die young !