Compilation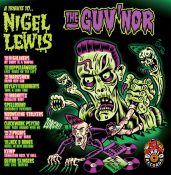 "A TRIBUTE TO NIGEL LEWIS - THE GUV NOR"
Diablo Rcds | 12 titres | 2016 | Psychobilly
Critique : Nigel LEWIS méritait bien son tribute et, sans surprise, c'est chez Diablo Rds que ça se passe. On retrouve donc la plupart des groupes du label (CLOCKWORK PSYCHO, GUITAR SLINGERS, KEMP, HIGHLINERS, etc. ) nous reprendre les hits des différentes formations du Guv'nor (ESCALATOR, TALL BOYS, ZORCHMEN, early METEORS, etc.), le tout avec un son général impeccable.
Cela nous donne une superbe compilation, avec de nombreuses petites perles, comme cette version Skankifiée de "Earwigs In My Brain" par the ZIPHEADS, "Satellite Baby" en version NeoRockab survolté et caverneux par the MAGNETIX ou encore la terrible version de "Final Kick" par les MOONSHINE STALKERS... Mais on aurait pu citer chacun des groupes car il n'y a définitivement rien à jeter de cette excellente production.
Sorti en vinyle bicolor, et empaqueté dans une superbe pochette illustrée magnifiquement par Sol Rac.
Liste des titres: 1. The Highliners: My Daddy Is A Vampire 2. The Doppelgängers: Last House On The Left 3. The Marksmen: Brand New Gun 4. Doyley And The Deadbeats: Took A Long Time 5. The Magnetix: Stellite Baby 6. Spellbound: Rockabilly Psychosis 7. Moonshine Stalkers: Final Kick 8. Clockwork Psycho: Don't Fuck Around With Me 9. Kemp: Demolition Rock 'N' Roll 10. The Jack O' Bones: Hotel In New Orleans 11. The Zipheads: Earwigs In My Brain 12. Guitar Slingers: Ride This Torpedo