Compilation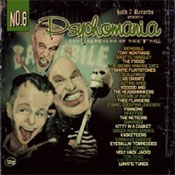 "PSYCHOMANIA n.6 Fanzine"
Halb 7 Rcds | 26 titres | 2009 | Psychobilly
Critique : Une nouvelle excellente compilation pour accompagner la 6e parution de ce qui est à ce jour la meilleure publication pour le Psychobilly. On y retrouve les nouveaux venus (ACTING APES, KITTY IN A CASKET, the FROGS, ...), des groupes plus établis (the METEORS, FRANTIC FLINTSTONES, ASTRO ZOMBIES, ...) et quelques raretés, comme le titre des SCALLYWAGS (qui était uniquement sorti sur une compilation de Maybe Crazy Rcds en 88).
Avis aux groupes intéressés: cette compilation est faite selon le principe du "Pay to play", ce qui signifie que les groupes payent (une centaine d'Euros environ) pour y figurer.
Et, grande nouvelle, pour la première fois ce Fanzine, qui auparavant n'était proposé qu'en allemand, a également sa version anglaise.
Liste des titres: 1. Batmobile: Go Satan Go 2. Tony Montanas: Traitor 3. Brigitte Handley: Mad At You 4. The Frogs: Golden Shower 5. The Brown Vampire Catz: Out Of Prison 6. Frantic Flintstones: Green Eyes 7. Scallywags: Criminal Boiz 8. As Diabatz: Wide Awake 9. Acting Apes: Bad Karma 10. Voodoo and the Headshrinkers: Here We Are 11. Rockabilly Mafia: Ich Verliere Den Verstand (live) 12. Thee Flanders: Romantik 13. Cosmic Cockfish Jukebox: Alcoholocaust 14. Francine: Never Grow up 15. Pfeffer: Song One 16. The Meteors: (They Call Me) Creepy 17. Rampires: Wicked Blood 18. Kitty In A Casket: Space Invaders (prerelease version) 19. Green Moon Sparks: A Rockabilly Stole My Bike 20. Kasketeers: Nacked Bound And Gagged 21. Kamikaze Queens: Tarantula's Arms 22. Astro Zombies: Reality Junkie 23. Holy Hack Jacks: Chainsaw 24. Tom Toxic und die Holstein Rockets: Die Alte Kutte 25. Eyeballin' Torpedoes: Down Pass The Border 26. Lunatic Tunes: Destination Misery (demo)