Compilation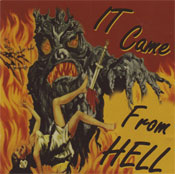 "IT CAME FROM HELL - vol.1"
Crazy Love Rcds | 25 titres | 1998 | Psychobilly
Critique : Trés bonne compil qui regroupe pas mal de nouveaux groupes pour l'époque, aux côtés de quelques rares pointures (SHARKS, FRANTIC FLINTSTONES...). Parmi les "petits nouveaux", quelqu'uns se retrouveront d'ailleurs par la suite à la tête du mouvement, comme the ASTRO-ZOMBIES, the PEACOCKS ou GORILLA.
Si la grande majorité des titres donne dans le Psychobilly traditionnel (FEARS, DAMAGE DONE BY WORMS, BRIOLES, SMALL TOWN PIMPS...), on trouve tout de même quelques morceaux plus SURF (LEZ BOOMERANG) voire même Punk metal (comme les japonnais de GUILTY SKULLS, SxTxH).
[ SLAPPING SUSPENDERS / PEACOCKS / MAD HEADS / SHARKS / TWILIGHT ZONE / DAMAGE DONE BY WORMS / ASTRO-ZOMBIES / KILLERS CREW / BURGUNDY CHERRY / MULLEKICKERS / KRYPTONIX / REJECTS / FRANTIC FLINTSTONES / BRIOLES / GORILLA / NOTORIOUS DEATHMEN / LES BOOMERANG / SMALL TOWN PIPMS / CLAY WHEELS / BONKERS / FEARS / EDDYHEZ / GUILTY SKULLS / NERVOUS BREAKDOWN / SxTxH ]