Compilation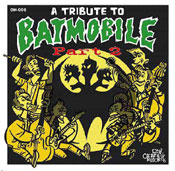 "A TRIBUTE TO BATMOBILE Part.2"
Downer Rcds | 15 titres | 2003 | Psychobilly
Critique : Cette suite du tribute aux BATMOBILE est une nouvelle fois très variée, allant du Neo-Rockab des TAGGY TONES jusqu'au Punkabilly de CHIBUKU ou au New-School metalique d'ACID CONNECTION, en passant par des groupes plus ou moins obscurs (mais très bons pour certains) d'Europe de l'est et du japon. Mention spéciale pour l'excellente reprise de "MAD AT YOU" par the PEACOCKS.
... Et toujours une inédite de BATMOBILE, un titre qui sonne "gros Rock" avec basse électrique.
Liste des titres: 1. Radio Frankensteins: Bat Attack 2. Thee Flatliners: Mystery Street 3. Taggy Tones: Bring All My Love 4. Chibuku: Magic Word Called Love 5. Mach Japonica: Gorilla Rock 6. Inoportunos: Transsylvanian Express 7. Peacocks: Mad At You 8. Wanted: Zombie Riot 9. Evil Gnomes: Amazons From Outer Space 10. Photon Torpedoes: Cold Sweat 11. Juke Box: Can't Stop That Rock 12. Nitkie: Sweet Love On My Mind 13. Komety: Love Disease 14. Acid Connection: Killer Crew 15. Batmobile: Deep Down