STING RAYS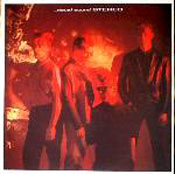 "Dinosaurs"
Big Beat | 13 titres | 1983 | Garage
Critique : Les STING-RAYS sont véritablement à l'origine du Psycho, au même titre que les METEORS. Cet album, très garage au son primitif, et pas toujours très carré (mais l'énergie des STING RAYS est à ce prix) comporte de superbes titres dont notamment la reprise des REMAINS "YOU GOT A HARD TIME COMIN'", "LOVE" ou encore "BLUE GIRL". Les compositions sont réellement originales, ce qui fait de cet album un must!
Liste des titres: 1. Soul Sale 2. Just Can't Help Myself 3. Blue Girl 4. On The Rocks 5. You Got A Hard Time Comin' 6. Drive-In Movie 7. Standing In Line 8. Strange Love (Whatever Happened To Batman) 9. My Flash On You 10. Joe Strummer's Wallet 11. Love 12. The Puppet 13. Interview - Cramps fans 14. * Ah What?!