RAYGUN COWBOYS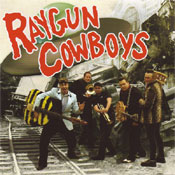 "st"
Stumble Rcds | 14 titres | 2008 | Psychobilly
Critique : Depuis le précédent album, the RAYGUN COWBOYS se sont adjoint les services d'une section de cuivre (trompette / trombonne) et ça fontionne parfaitement, donnant une touche Swing au mix Neo-Rockab/Psycho du band. Sur scène, les prestations du groupe sont réellement devenues très impressionnantes.
Musicalement toujours très au point, the RAYGUN COWBOYS ont des compositions généralement vives et variées, tel leur hommage à Joe Ramone, ou la chanson à boire "FOR THE WHISKEY" ou l'excellente "DEAD KING's RISE", véritable hit de l'album.
2 titres du 1er dont l'excellente "SIDEBURNS & SWITCHBLADES" (la reprise déguisée "ROAD TO RACK'N'RUIN" de KING KURT) ont été refaites en fin d'album avec la nouvelle instrumentation.
Liste des titres: 1. Asbestos Rock 2. Devil On My Mind 3. Dead End Girl 4. Devil Son 5. Light Me Up 6. Joey Ramone Street 7. Curse of the Django 8. Come Back To Me 9. For the Whisky 10. Dead King's Rise 11. Since You've Been Gone 12. One Life Left 13. Sideburns & Switchblades 14. Attack of the 50's