MAD SIN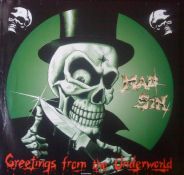 "Greetings From The Underworld "
Total Crazy Rcds | 15 titres | 1997 | Heavy-Psycho
Critique : Album non-officiel de MAD SIN qui est en fait une compilation de "Break The Rules" et de "A Ticket To The Underworld", ce qui donne un album très speed et puissant, avec des classiques tels "Meattrain At Midnight" ou "Psychotic Night", mais également des titres moins connus, comme "Steal Machine" qui n'était sorti que sur la version CD de "Break The Rules".
Le label Total Crazy Rcds semble être un pied-de-nez au label qui avait sorti originellement les 2 albums, Maybe Crazy Rcds, et dont le logo se retrouve avec la tête tranchée. Ce bootleg est sorti en édition limitée à 500 exemplaires, plus 333 en version picture disc.
Liste des titres: 1. Mad Filthy Undead 2. Steal Machine 3. Deep Black Zone 4. Run To Live 5. She's The One 6. Sick World 7. Meattrain At Midnight 8. All Hell Breaks Loose 9. Psychotic Night 10. No Mercy 11. Where Will It Go 12. Overpower 13. Hell-A-Vision Shock 14. What's Behind 15. Prison Of Pain 16. Outro
&nbsp [0 critique]