LONG TALL TEXANS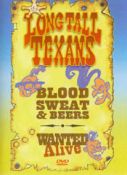 "Blood, Sweet And Beer / Wanted Alive" DVD
Cherry Red | 26 titres | 2003 | Psychobilly
Critique : 2 concerts sur 1 DVD : le premier (10 titres) date de 1988 et est réellement escellent ! Il a été enregistré au Humming Bird Club, lors de "THE NIGHT OF THE LONG KNIVES".
Quant au second (16 titres), il date de 1992 et a été filmé sur une scène beaucoup plus petite, ... peut-être trop petite pour que les LONG TALL puissent s'exprimer pleinement.
Liste des titres à venir.