FLANDERS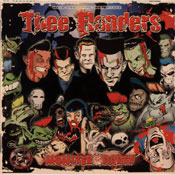 "Monster Party"
Halb 7 Rcds | 16 titres | 2004 | Heavy-Psycho
Critique : Thee FLANDERS est un groupe de Heavy-Psychobilly très au point, inspirés par les DEMENTED ARE GO, et proches au niveau du son de GAZOO BILL.
Le groupe joue avec une basse électrique, mais il y a de la contrebasse sur de nombreux morceaux, puisque plusieurs slappeurs invtés participent à cet album: celui d'UP TO VEGAS, des RIPMEN, des TAZMANIAN DEVILS et de KATHY X.
Côté reprises, on a le droit à "FUNNEL OF LOVE" de Wanda JACKSON (dans une version très inspirée par celle de D.A.G.)et "LIVING HELL" des MISFITS.
Liste des titres: 1. Intro 2. Amok 3. Living Hell 4. Dead In My Bed 5. Flanders Boogie 6. 666 7. Jack The Ripper 8. Funnel Of Love 9. Deadly Secrets 10. Fleischzug 11. Wild And Free 12. Wanna Be 13. Buried Alive 14. Undead (At Vegas) 15. Fuck You 16. 666 - Take Your Chance 2004 17. 17.Outro 18. Outro2 (hidden) 19. Nightmare Radio Show (hidden)