WRECK
[France]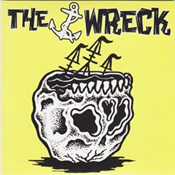 "Demo"
Crazy Love Rcds | 2 titres | 2017 | Psychobilly
Critique : Ne me dites pas que vous n'avez pas encore entendu parler de The WRECK? Pourtant, ces pirates ont déferlé sur le Web il y a quelques mois déjà, et ils naviguent allègrement sur les réseaux sociaux depuis. Nouveau side-project de Christophe Bourgeade qui passe de la guitare à la batterie, toujours accompagné de Jimmy, l'excellent contrebassiste actuel des ASTRO-ZOMBIES, le groupe pratique un Psychobilly old-school plus que convainquant! Instrumentation parfaite, très bons son et mélodies catchy et originales.
2 compositions ciselées à la perfection (de véritables perles!) qui sont supposées nous permettre de patienter jusqu'à cet automne, pour la sortie officielle de leur 1er album.
Liste des titres: 1. The Nosferatu 2. The Day The Earth Stood Still
[Lire ou Ajouter un commentaire]
COMPILATIONS : 19 compilation(s) avec WRECK.