SUGAR PUFF DEMONS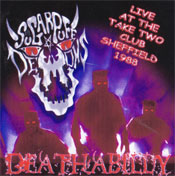 "Deathabilly - Live At The Take Two Club"
Made In Hell Rcds | 18 titres | 2006 | Psychobilly
Critique : Enregistré en 1988 (soit juste avant la sortie de leur album), au Take 2 Club de Sheffield, ce live de 15 titres est un bon apperçu de ce que pouvait donner le groupe sur scène. La plupart des meilleurs morceaux de l'album sont présents (sauf "FAMILY IN A SUITCASE"), plus quelques reprises (the CRAMPS, SCREAMIN' LORD SUTCH, ...) et quelques inédites.
The SUGAR PUFF DEMONS évoluent en trio (chant-guitare / batterie / basse électrique) et ont de bonnes compositions speeds et originales, entre psychobilly, garage et punk rock gothique. Bien que le son ne soit pas excellent (ça aurait pu sortir en "LIVE 'N' ROCKIN'" chez Link Rcds), ce live est un bon prélude à la réédition CD de leur album "FALLING FROM GRACE", prévue fin 2006.
En bonus, 3 titres démo un peu mous et certainement antérieurs.
Liste des titres: 1. Dance with the Dead 2. Count 5 and Die 3. Phantom of the Fog 4. Weedin 5. Burke and Hare 6. The Mask 7. All Black and Hairy 8. Burn the Church 9. Stan Likes Making Babies 10. Nice Day for a Homicide 11. Scream and Scream 12. Gotta Get Out 13. Suspect 14. Have a Nice Death 15. Wipeout 16. Psycho (demo) 17. Weedin (demo) 18. Gotta Get Out (demo)
[Lire ou Ajouter un commentaire]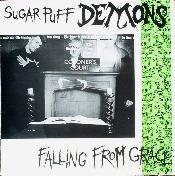 "Falling From Grace"
Link Rcds | 15 titres | 1989 | Garage
Critique : Groupe assez atypique qui doit énormément aux CRAMPS, les S.P.D. sortent un bon premier album, assez speed avec de bonnes compos ("FAMILY IN A SUITCASE", par exemple), un son garage très correct (avec une basse électrice), et un chant bien au point. Le tout, sans prétention, fonctionne très bien et est tout à fait honorable.
Liste des titres: 1. Family in a suitcase 2. Burn the church 3. Germs 4. Phantom of the fog 5. 100 Rifles 6. Gotta Gat Out 7. Stan Likes Making Babies 8. The Mask 9. Nice day for a homocide 10. Suspect 11. Dance with the dead 12. Burke & Hare 13. Costa Del Hell 14. Weddin 15. Nervous Breakdown
[Lire ou Ajouter un commentaire]
COMPILATIONS : 11 compilation(s) avec SUGAR PUFF DEMONS.