SPACE CADETS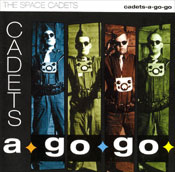 "Cadets A Go Go"
Vinyl Japan | 12 titres | 2000 | Neo-Rockabilly
Critique : La Dream-Team du Neo-Rockab. Imaginez le casting:
- Mouse Zihnn - Lead Vocals & Steel Guitar (RED HOT & BLUE)
- Ricky Lee Brawn - Drums (the BIG 6 & the STARGAZERS)
- Anders Janes - Double Bass (the BIG 6 & the STARGAZERS)
- Mark Harman - Lead Guitar (RESTLESS)

Malheureusement à part 2 ou 3 très bons morceaux, l'ensemble de l'album, très propre et nickel au niveau du son reste très classique. Ca donne du bon Neo-Rockab, mais sans réel plus. Quelques titres cependant sortent réellement du lot, comme "GET CLOSER" qui ouvre l'album, la très rythmique "HEAT FROM THE BEAT", ou encore la country "ASSIE BOP" avec Didjereedoo, et rythme kangooroo.
Liste des titres à venir.
[Lire ou Ajouter un commentaire]
COMPILATIONS : 1 compilation(s) avec SPACE CADETS.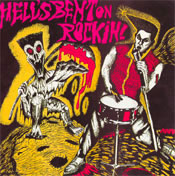 HELL'S BENT ON ROCKIN' - CD