SOUTHERN WAY
[Hollande]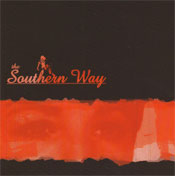 "s-t"
Rebellion Rcds | 13 titres | 2006 | Speedrock
Critique : Amateurs de "FOOTBALL, BEER & ROCK'N'ROLL", the SOUTHERN WAY est un groupe pour vous: Le groupe pratique un bon SpeedRock avec de grandes influences RnR pour les mélodies et un chant gueulard Oï.
Un premier album très convainquant, avec quelques très bons morceaux dans le style, comme "V-Virus" ou "Fallen Angels".
Liste des titres: 1. V-Virus 2. Sweet 17 3. Orange Army 4. Braindead 5. When The Reaper Gets Drunk 6. Metal Girl 7. Footbal, Beer & Rock'n'Roll 8. Chick From Hell 9. Silent Hill 10. Footbal Is Fun 11. Fallen Angel 12. Redneck Zombies 13. Southern Way
[Lire ou Ajouter un commentaire]
COMPILATIONS : 0 compilation(s) avec SOUTHERN WAY.