SONS OF THE YOMPIN COCKROACHES
[Hollande]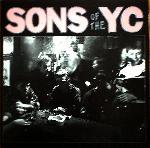 "Sons of the Yompin' cockroaches"
Kix4U Rcds | 14 titres | 1990 | Psychobilly
Critique : Mélange entre de Psycho/garage et du Rock plus large, le tout avec un son très clean (les groupes avec basse éléctrique s'en sortent souvent mieux), l'album des SOTYC n'est pas désagréable à écouter, mais n'a pas le petit plus qui aurait pu en faire un bon album. Les morceaux ont tendance à se ressembler. Le clin d'oeil à Mickael Jackson, "BAD" est quant à lui plutôt réussi.


Liste des titres: 1. I've Got No Time 2. Running Wild 3. Bad 4. Is This Love 5. Heartbeat 6. New Parts 7. What You Want Is What You Get 8. True Love (divine) 9. The Boogie Man 10. Let's Go 11. Sex Crazy 12. Cadillac Lies 13. Here I Go Again 14. Square
[Lire ou Ajouter un commentaire]
COMPILATIONS : 0 compilation(s) avec SONS OF THE YOMPIN COCKROACHES.