NO HIT MAKERS
[France]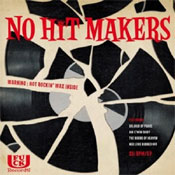 "st"
Fuck U Rcds | 4 titres | 2012 | Neo-Rockabilly
Critique : EP 4 titres excellents, d'un Neo-Rockabilly à  la fois racé et percutant (et qui tire même vers le Psychobilly soft et mélodique sur "The Doors Of Heaven" notamment). 2 compositions originales, que l'on pourrait placer dans la lignée des défunts CELICATES, et 2 reprises audacieuse (une de Carl PERKINS et une de ROCHÉE & the SARNOS) toutes 2 très bonnes. On attend l'album avec impatience!!
À noter: On retrouve au sein du groupe des membres des défunts SNAILS et de SWINDLE.
Liste des titres: 1. Soldier Of Peace 2. Aw C'mon Baby 3. The Doors Of Heaven 4. Her Loved Rubbed Off
[Lire ou Ajouter un commentaire]
COMPILATIONS : 2 compilation(s) avec NO HIT MAKERS.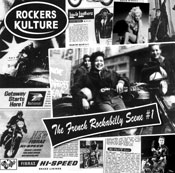 ROCKERS KULTURE: THE FRENCH ROCKABILLY SCENE vol.1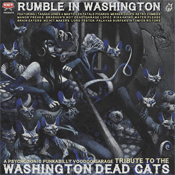 RUMBLE IN WASHINGTON