NIGHTSHIFT CREW
[Bosnie]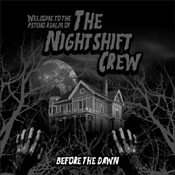 "Before The Dawn"
Walk Rcds | 13 titres | 2010 | HorrorPunk
Critique : Un groupe entre le Psychobilly New-School à  l'américaine et l'Horror-Punk, NIGHTSHIFT CREW est certainement le premier groupe bosniaque du genre. Des instruments sont bien en place, un chant puissant, pour un album bénéficiant d'une très bonne production. Malheureusement, à  part les 2 instrumentales un peu plus vives, les chansons sont toutes bâties le même moule et les chansons ont parfois tendance à  se ressembler.
À découvrir, et à  encourager: le groupe a mis son album en téléchargement gratuit.
Liste des titres: 1. The Flowers Die: Intro 2. Riding The Wind 3. The Nightshift Crew 4. The Fear 5. Zombie Queen 6. On Pale Horse He Rides 7. Midnight Stomp 8. Vampiress 9. Love Bites 10. Return Of The Dead 11. I'm Insane 12. Night And Haze 13. Creatures Of Night 14. The Engine Keeps Roaring
[Lire ou Ajouter un commentaire]
COMPILATIONS : 0 compilation(s) avec NIGHTSHIFT CREW.