MY 3 SCUM
[USA]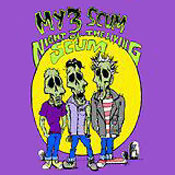 "Night Of The Living Scum"
Eerie Rcds | 11 titres | 0 | Garage
Critique : Très bon album dans le style Garage Rock / Horror Psychobilly. Les mélodies, plutôt Punk-Rock, sont originales et mélodiques, et ça donne de bons titres comme "YOU CREEP ME OUT" ou "GOTTA GO", speed et énergiques mais pas brouillon.
Ce trio (basse / guitare / batterie), issu de Pennsylvanie, a changé de nom dans le début des 90's pour devenir the COFFIN BANGERS.
Liste des titres: You Creep Me Out 2. Werewolf By Night 3. For Geno's Sake 4. Dont Care 5. Ridin 6. Gotta Go 7. Be My Baby 8. Shes No Friend 9. Zombies Gonna Eat Your Brain 10. Gator Pond 11. Never Gonna Get It
[Lire ou Ajouter un commentaire]
COMPILATIONS : 0 compilation(s) avec MY 3 SCUM.