MICKEY and the MUTANTS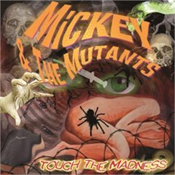 "Touch The Madness"
Western Star Rcds | 12 titres | 2013 | Psychobilly
Critique : MICKEY and the MUTANTS est un trio de Psychobilly à la fois Old-School et tranquille - ou du Rockabilly mutant comme ils disent eux-mêmes - qui est composé notamment de Mick WHITE à  la contrebasse et au chant (ex-METEORS et ex-GUANA BATZ) et de HODGE (SHARKS) à  la batterie et Norm Elliott (NORM and the NIGHTMARES) à la guitare et au chant. Bref, vous l'aurez compris, these Ol'bones connaissent leur affaire! De plus, derrière les manettes, on retrouve Alan WILSON (lui aussi des SHARKS), connu pour son excellence et son professionnalisme; on a donc aucune peine à  imaginer la qualité de cette galette!
Un excellent album, hautement recommandé, avec un son qui approche la perfection -guitare légère, contrebasse bien slappée, voix légèrement erraillée, batterie réglée comme un métronome et très bons arrangements- et des compositions qui devraient vous rester longtemps dans la tête: en effet, que ce soit l'envoûtante "ELVIRISTA", la lugubre "SOMETHING BAD'S COMIN' OUTA THE GROUND." ou la rockeuse "BURN YOU SINNERS BURN", aucune des pièces de cet album (qui restera malheureusement l'unique album du groupe, puisqu'il s'est dissous début 2014) ne devrait vous laisser de marbre!
À noter: excellente reprise des METEORS (de la période Mick WHITE, justement), "PHANTOM OF THE OPERA".
Liste des titres: 1. Touch The Madness 2. Elvirista (Queen Of The Dead) 3. These Ol' Bones 4. Jacob And The Well Of Love 5. Something Bad's Comin' Outa The Ground 6. Blonde Haired Assassin 7. Rock n Roll Messed Up My Mind 8. Phantom Of The Opera 9. Burn You Sinners Burn 10. Kiss Of The Spider Woman 11. Zombie 12. Mind Control
[Lire ou Ajouter un commentaire]
COMPILATIONS : 0 compilation(s) avec MICKEY and the MUTANTS.