MASSACRES
[USA]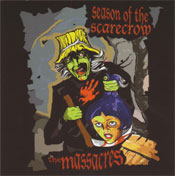 "Season Of The Scarecrow"
Flying Saucer Rcds | 12 titres | 2006 | Psychobilly
Critique : Nouveau groupe de Chicago, the MASSACRES joue une espèce de Psychobilly mélodique aux accents gothico-dépressifs. Malgré quelques bonnes idées, cet album, dont le son général est tout au plus du niveau d'une bonne demo, souffre de plusieurs imperfections: des rythmes qui sont loin d'être carrés, un son de contrebasse gaché (malgré le bon travail du contrebassiste), des guitares qui manquent d'énergie et de mordant et un chant sans enthousiasme...
... Non, vraiment pas une bonne saison pour les épouvantails, finalement.
Liste des titres: 1. Intro 2. Die Tonight 3. Dr. Phibes 4. Channel 13 5. Dead Girl 6. Sleepless Night 7. Stitches 8. Blood Stained Casket 9. ... And Here My Death Begins 10. Season Of The Scarecrow 11. Resurected 12. Night Of The Living Psychobillys 13. Ballad Of The Gunwitch
[Lire ou Ajouter un commentaire]
COMPILATIONS : 0 compilation(s) avec MASSACRES.