KC and the MOONSHINE BAND
[Canada]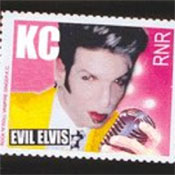 "Evil Elvis"
Autoproduit | 7 titres | 2001 | Divers
Critique : Premier CD pour ce groupe de Toronto, qui pratique un Rock'n'Roll plutôt classique à  la base, mais baignant dans une ambiance horrifique. Cela nous vaut quelques très bons titres comme la ballade "Zombified", la reprise glauque de "She's My Witch" ou encore la psychotique et Garage "Hey Space Girl".
À noter: KC -toujours actif sous le nom d'EVIL ELVIS depuis 2010- and the MOONSHINE BAND ont effectué plusieurs tournées en Australie.
Liste des titres: 1. Trouble 2. I Wanna Wed The Undead 3. She's My Witch 4. Zombified 5. Werewolf 6. Vampira 7. Hey Space Girl
[Lire ou Ajouter un commentaire]
COMPILATIONS : 2 compilation(s) avec KC and the MOONSHINE BAND.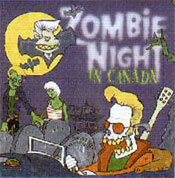 ZOMBIE NIGHT IN CANADA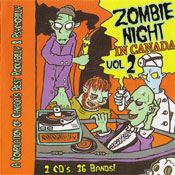 ZOMBIE NIGHT IN CANADA vol.2