GRAVE BROTHERS
[Belgique]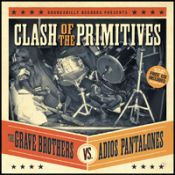 "Clash Of The Primitives (vs ADIOS PANTALONES)"
Drunkabilly Rcds | 12 titres | 2013 | Country - CowPunk
Critique : Un clash vraiment intéressant, car opposés aux Psychobillies d'ADIO PANTALONES, on trouve un excellent groupe de Country Outlaw, ou Hellbilly, choisissez le terme que vous préférez!
6 titres qui n'ont rien à envier à Hank III ou aux GODDAMN GALLOWS, incluant une superbe reprise d'un titre de JELLO BIAFFRA, le tout avec une production parfaite, mettant autant en valeur le chant, que le banjo, la contrebasse ou les autres instruments. Bref, the GRAVE BROTHERS sont certainement pour moi la révélation de ce LP!
Comme souvent chez Drunkabilly Rcds, le vinyle vient avec le CD.
Liste des titres: 1. The Grave Brothers: Goat Skin Clogs 2. Way Up High/Down Below 3. Are You Drinking With Me Jesus 4. Black Sunday Shuffle 5. Rum Drinkers & Hell Raisers 6. Now Go!! 7. Adios Pantalones: Time Is No Friend 8. Terror Street 9. Hairy Tits 10. Creature Of Nightmares 11. Come On Freddy 12. Psycho Killer
[Lire ou Ajouter un commentaire]
COMPILATIONS : 0 compilation(s) avec GRAVE BROTHERS.