BRAIN EATERS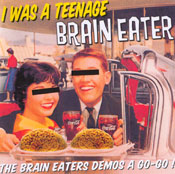 "I Was A Teenage Brain Eater"
Autoprod. | 12 titres | 2004 | Garage
Critique : Sous-titré "THE BRAIN EATERS DEMOS A GO-GO!", ce CD regroupe les 3 mini-CD autoproduits du groupe. A son écoute, une question revient sans cesse: A quand un véritable album?!
Le "supremo Raunch'n'Roll from Hell" du groupe est terriblement efficace: Ambiance série-Z du début à la fin de l'album, influences principalement Garage, mais également Surf (superbe "SURFIN' WITH SHARKS"), western ("NAKED GIRLS OF THE WILD WILD WEST"), punk-rock, et un chanteur très charismatique (voir sur "MUCHO MACHO", et encore plus sur scène!!)... Nos RAUNCH HANDS francilliens sont réellement un groupe à ne pas manquer.
Le groupe comprend 2 ex des SNAILS.
Liste des titres à venir.
[Lire ou Ajouter un commentaire]
COMPILATIONS : 4 compilation(s) avec BRAIN EATERS.